CYBERWORLDS 2014 has received a lot of attention from different national and international mass media.
Television: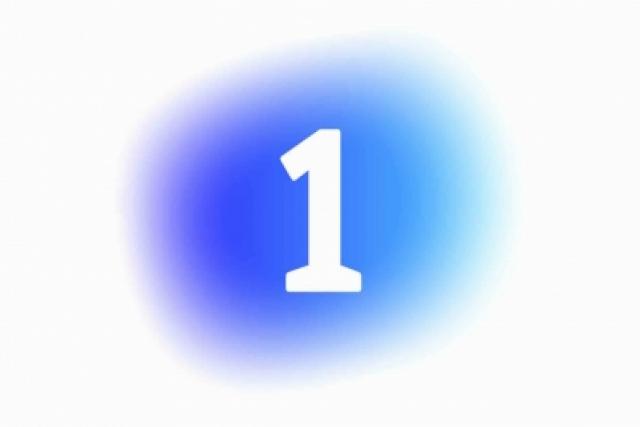 TVE-1:
The conference was covered by TVE-1 (Spain's national public TV, channel 1). The video was shot on Oct. 7th. 2014 as a part of the first edition of the news (from 14:00 to 14:30) and then, in shorter version in the second edition (from 16:00 to 16:15). The video was subsequently edited by Andres Iglesias so that only the relevant news clips are included.
Total time: 2 min. 41 secs. Language: Spanish

POPULAR TV CANTABRIA:
Video not available. A summary of the news can be read at (published on October 6th 2014): Arranca el congreso internacional sobre mundos virtuales Cyberworlds en Santander con investigadores de 32 países (The international conference on virtual worlds Cyberworlds opens in Santander with researchers from 32 countries)
Radio:
ONDA CERO: (national radio channel)
October 1st 2014: Cantabria en la onda (12:00-13:30). Interview to Andres Iglesias about CW'2014 conference (7 min. 4 sec., from 12:21:13 to 12:28:17). Radio interviewer: María Gómez.
ONDA CANTABRIA: (regional radio channel, 98.9 and 92.6 FM)
October 3rd 2014: El segundo café. Interview to Andres Iglesias about CW'2014 conference. Radio interviewer: Claudio Acebo.
Newspapers:
EL DIARIO MONTAÑES: (largest regional newspaper)
October 4th 2014: Santander acoge el congreso internacional sobre mundos virtuales cyberworlds (Santander hosts the international conference on virtual worlds, Cyberworlds)
October 6th 2014: El mundo virtual toma Santander (The virtual world takes Santander)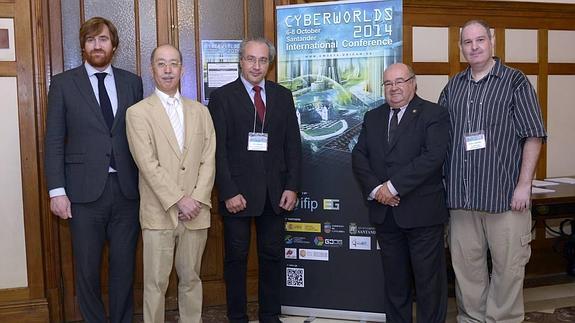 From left: Alfonso Tomé Díaz de Terán (Santander City Council), Prof. Mikio Shinya (CW 2014 PC Chair; Toho University, Japan), Prof. Alexei Souring (CW 2'14 Steering Committee Coordinator; Nanyang Technological University, Singapore), Prof. José Carlos Gómez Sal (Rector of University of Cantabria, Spain), Prof. Andrés Iglesias (CW 2014 General Chair; University of Cantabria, Spain) (Source: El Diario Montañés newspaper, Ocotber 6th 2014)
October 7th 2014: La UC organiza en La Magdalena el congreso sobre mundos virtuales Cyberworlds 2014 (The UC organizes the conference on virtual worlds Cyberworlds 2014)
October 9th 2014: La tercera dimension de La Magdalena (The Magdalena's third dimension)
ABC: (one of the largest Spanish national newspapers)
October 4th 2014: Santander acoge el congreso internacional sobre mundos virtuales cyberworlds (Santander hosts the international conference on virtual worlds, Cyberworlds)
EUROPA PRESS: (international news agency)
September 30th 2014: El congreso internacional sobre mundos virtuales Cyberworlds 2014 reunirá en Santander a investigadores de 32 países (International conference on virtual worlds Cyberworlds 2014 will bring together researches from 32 countries)
GENTE EN SANTANDER: (printed and online newspaper)
September 30th 2014: El congreso internacional sobre mundos virtuales Cyberworlds 2014 reunirá en Santander a investigadores de 32 países (International conference on virtual worlds Cyberworlds 2014 will bring together researches from 32 countries)
EL GALLO: (printed and online newspaper)
October 3rd 2014: El congreso Cyberworlds 2014 se inagura el lunes en Santander (Cyberworlds 2014 conference opens on Monday in Santander)
EL FARO DE CANTABRIA: (digital regional newspaper)
October 3rd 2014: El congreso Cyberworlds 2014 reunirá en Santander a investigadores de 32 países (Conference Cyberworlds will bring together researches from 32 countries)
PRESS PEOPLE: (digital newspaper)
October 3rd 2014: El congreso Cyberworlds 2014 se inagura el lunes en Santander (Cyberworlds 2014 conference opens on Monday in Santander)
DSANTANDER: (digital regional newspaper)
October 3rd 2014: El congreso Cyberworlds 2014 se inagura el lunes en Santander (Cyberworlds 2014 conference opens on Monday in Santander)
Digital Media:
UNIVERSITY OF CANTABRIA:
September 30th 2014: La Universidad de Cantabria organiza el congreso internacional sobre mundos virtuales Cyberworlds 2014 (The University of Cantabria organizes the international conference on virtual worlds Cyberworlds 2014)
SANTANDER CITY COUNCIL:
October 6th 2014: Santander acoge el congreso Cyberworlds, uno de los más prestigiosos a nivel internacional en el ámbito de los mundos virtuales (Santander hosts the conference Cyberworlds, one of the most prestigious conferences at international level in the field of virtual worlds)
UNIVERSITY OF CALGARY:
October 2014: Mahmudul Hasan's PhD research received Best Paper Award at International Conference on Cyberworlds 2014

From left: Prof. Andres Iglesias (CW 2014 General Chair; University of Cantabria, Spain), Mahmudul Hasan (University of Calgary), Prof. Faramarz Samavati (University of Calgary), Prof. Mikio Shinya (CW 2014 PC Chair; Toho University, Japan). Photo by Dr. Javad Sadeghi, University of Calgary. (Source: University of Calgary web site: www.ucalgary.ca)
KAIST:
October 16th 2014: KAIST C.S. Ph.D. Student Francisco Rojas received the Distinguished Paper Award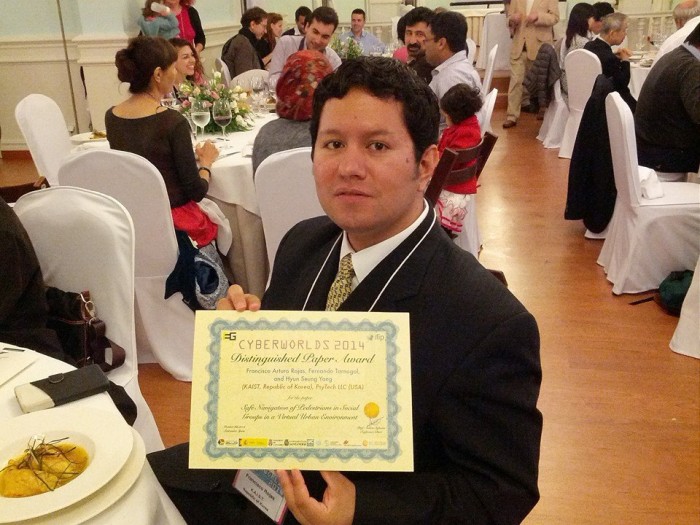 Francisco Rojas (KAIST, Republic of Korea) was given a Distingushed Paper Award at Cyberworlds 2014 conference (Source: KAIST web site)